We are very proud to be an accredited International Baccalaureate Primary Year Programme (IB PYP) school. This prestigious and rigorous programme provides an outstanding foundation for your daughter's education at BGS.
---
The Primary Years Programme at BGS
The PYP is a concept-driven, trans-disciplinary education which encourages students to learn beyond the subject boundaries to solve real problems. This is achieved through a focus on the discovery of knowledge, developing conceptual understanding, and taking action; aiding each child to move from their current level of understanding to a new and deeper level.
Throughout their learning, our students are:
Exploring, wondering and questioning
Collecting data and reporting findings
Taking and defending a position
Using critical thinking skills
Making and testing theories
Experimenting and playing with possibilities
Solving problems in a variety of way
Using inquiry-based learning, the PYP is able to engage and challenge students who have many diverse perspectives, values, cultural backgrounds, and languages. It helps learning be relevant, and individualised.
The IB PYP at BGS Booklet
The PYP framework reaches far beyond intellectual development and academic success; it addresses students' academic, social and emotional well-being through a framework of knowledge, concepts, skills and attitudes, all of which embed the vital roots of learning as they progress through the Junior School.
PYP works through trans-disciplinary themes which address real world problems that help children understand the world and humanity without being confined to subject boundaries, or fixed answers. Learning is interconnectedness through six broad subject areas making every step meaningful.
Language (English and MFL)
Mathematics
Science
Humanities
Personal, Social and Physical Education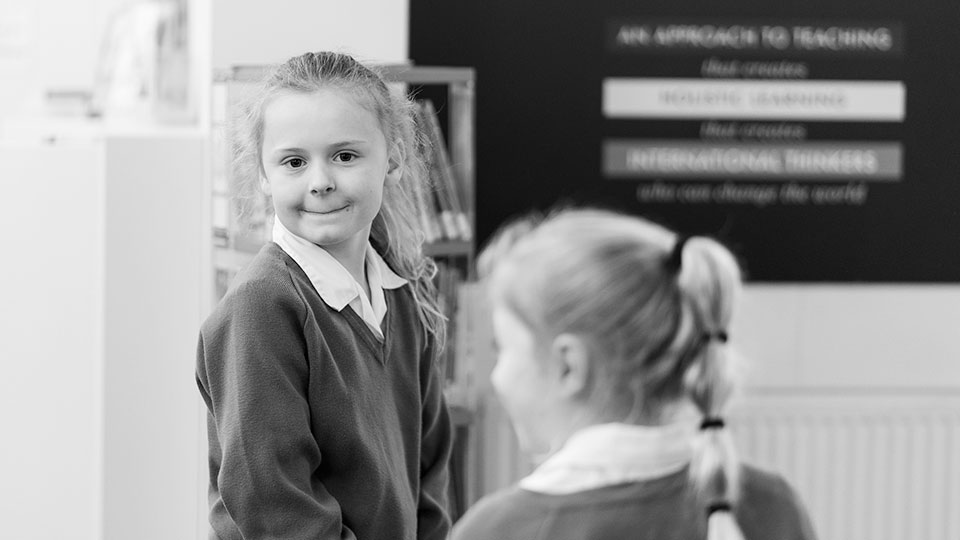 English Language and Mathematics are learnt in distinct daily lessons with our Junior School class teachers who are experts in the early acquisition of these subjects. Developing a strong set of skills in literacy and numeracy are vital for unlocking potential across all subject areas.
Years 3-5 receive specialist Music and Dance lessons as well as specialist Spanish lessons from Year 3 - 5 (together with the introduction of German, French and Latin in Year 6). Specialist teachers also teach PE. Additionally, in Year 6, Science, Drama, Textiles and DT are taught through specialist Senior School lessons.
We believe our approach to learning truly preparing our students for the future. Our students love the freedom this approach provides them. They ask big questions, dig deeper to find the answers and feel empowered by taking responsibility for their outcomes. Their confidence and learning skills prepare them for the exciting opportunities of the Senior School.